Congratulations to Dan from West Allis, his "Milwaukee Brat" was voted the winner in the "Bucks Best Brat Contest".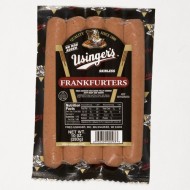 Longing for the "Hot Dog" daze of Summer?
Around here we love our brats, but there really is nothing better hot off the grill than a natural casing wiener or frank garnished with garden fresh tomato dices all packed into a fresh warm roll. Yum!
Call them what you want franks, hot dogs or wieners they're all cousins.  We make lots of them at Usinger's in all beef or pork and beef varieties.  Both are smoky with lots of spices working together and the all beef has a hint of fresh garlic added.  What you won't find is MSG, Gluten, fillers or milk powder in our "dogs".
My favorite is the curved link of a natural casing wiener that "pop" when you bite into them. The casing provides a firm bite and holds all the flavorful juices and spices inside the link during cooking.  Try to avoid splitting them while grilling, usually this is done by cooking slower over a lower heat.
If you prefer a softer bite on your hot dog, we also make them without the casing. These are called "skinless". They are made with the same recipe; we just peel the casings off before they go in the package.  Skinless wieners are very popular with kids, so if you're grilling out for some youngsters they make a great choice.  Look for the links that are straight without a curve.
Fritz