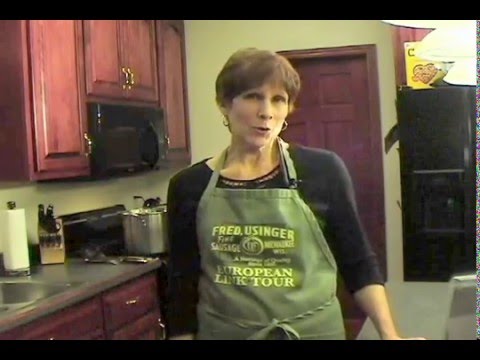 8 cups chicken broth
3 pounds total of Usinger's Andouille and Chorizo Sausage – split each sausage link lengthwise, then cut the halves into 1" to 1-1/2" chunks
2 ½ pounds of peeled potatoes, chunked in large pieces
2 cans of diced tomatoes  (14.5 oz cans)– salsa style or fire-roasted
2 bell peppers, diced
1 head cabbage – chopped coarsely (I substituted one and a half pounds of bagged coleslaw mix made up of green cabbage and carrots.)
3 medium onions, chopped
8 medium carrots, sliced
3 tablespoons of minced garlic
2 cans of kidney beans, drained and thoroughly rinsed
2 cans of garbanzo beans, drained and thoroughly rinsed
Salt and pepper
Combine all ingredients in a large pot (I use an 18-quart one) – adding the cabbage last.  Hold back 2 cups of the chicken broth.
Once all the ingredients are in the pot, pour the remaining chicken broth in, then add enough water to completely cover the ingredients.  Bring to boil, then simmer until thick (about 3 hours).
Serves 8 – 10 generously.
Make it your own by adding different types of Usinger's Sausage and bacon to the soup!